Welcome to the weekend!
Okay, last week's party was record breaking, bringing in 115 brilliant, creative, wonderful, jaw-dropping links! Y'all sure know how to make a girl smile!
And now, for a few of my top picks from party #10:
Can we all agree that Rasha from
My Champagne Taste
is a genius? Seriously, hanging these petite drawers, (I vote we call them drawerlets) is
bizarrely
brilliant!
I shall be looking for some drawerlets of my own.
Are you over the big ruffle craze yet? Me either! I am lovin' the simple Ruffled Tee from
Crafty Cousins
!
a.) I can't stop smiling about the diagonal ruffles and uneven bottom hem b.) It's refashioned, so how fun is that?!
Are you trying to come up with a great homemade valentine to send out? Why not clean out your broken crayon collection at the same time? Try the Homemade Crayon Valentines from
Bowl of Cherrys
, they look so sweet!
I am a nacho lover. It's true, I won't even deny it, so when I saw this awesome idea for bite-size nachos from
Maiden D'Shade
, I nearly fell off my chair! Isn't Kim a total smarty pants? This would be so fun to do with your fave nacho toppings, too!
Alright, alright, let's party already, shall we?
If your link was featured above, feel free to grab a featured button: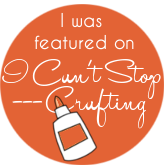 And now, let's get this party started!
Here's the rundown:
Link up as many of your own posts as you like, try to keep them fairly recent. You could post anything from recipes, crafts, and refinished furniture, to essays, photography, and fashion, whatever you do! The party will be open until Tuesday evening. At the end of the week, I'll pick a few of my faves and share them with you. At the end of the month I'll set up a vote and you all will get to choose the winner of the Head to Head Showdown!
I only ask a few things:
1. Please only link up posts you have written, created, etc.
2. Please display my party button somewhere on the post you're linking or on the side bar of your blog.
3. It's a party, so hang out and visit a few other link ups as well!
4. I'd love for you to follow my blog!