My goodness, this week has flown by! Boden is back to school and we're back to running, running, running! I'm so glad the weekend is here and we can enjoy some time as a family.
Last weeks link party did not disappoint and I'm excited to share a few of my favorite links.
This stunning
kitchen dresser
from
Meg and Mum
's made my jaw drop! You have
got
to click over to see the before picture. Meg and Mum's did a bang-up job reviving this old school kitchen hutch, and I would not mind
one bit
having this beauty gracing my kitchen.
Another fave of mine was this fabulous
upholstered headboard
from
Miss Madison's Charmed Life
. The bejeweled tufting makes this headboard feel like it belongs in Hollywood, and the luxurious crushed velvet only emphasizes its glamorous charm.
If you're looking to accessorize, why not consider this creative
Crochet and Braid T-Shirt Scarf
from
One Dog Woof
? ChiWei amazed me with her beautiful scarf, I love the varying textures and shades of grey. This would work well in almost any wardrobe.
And finally, did you see the
Brownie and Peanut Butter Cups
from
Raising Oranges
? I was at a girl's night recently, and my friend Racheal made a gluten-free version of these delectable desserts. Oh. My. Wowzers, they were delicious, and I look forward to giving Katie's version a try soon!
If your link was featured above, feel free to grab a featured button: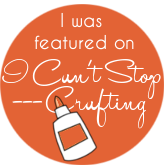 And now, let's get this party started!
Here's the rundown:
Link up as many of your own posts as you like, try to keep them fairly recent. You could post anything from recipes, crafts, and refinished furniture, to essays, photography, and fashion, whatever you do! The party will be open until Tuesday evening. At the end of the week, I'll pick a few of my faves and share them with you. At the end of the month I'll set up a vote and you all will get to choose the winner of the Head to Head Showdown!
I only ask a few things:
1. Please only link up posts you have written, created, etc.
2. Please display my party button somewhere on the post you're linking or on the side bar of your blog.
3. It's a party, so hang out and visit a few other link ups as well!
4. I'd love for you to follow my blog!